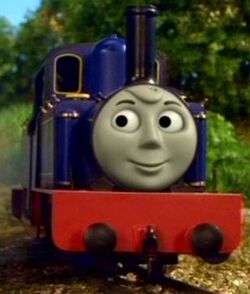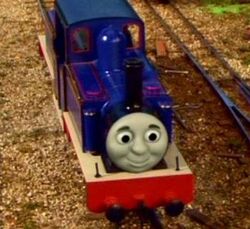 Mighty Mac
Builder: Boston Lodge
Configuration: 0-4-0+0-4-0T
Mighty Mac is a double-ended Fairlie locomotive. Mighty is the "older" of the two and is distinguished by a small flick of hair. Mac is the "younger" half and is distinguished by his youthful features, round nose, and freckled cheeks.
Despite the opposing personalities of the two ends, they are technically one engine.
Prior to their adoption into the Skarloey Railway family, Mighty Mac had only worked in the shunting yards. Their lack of knowledge beyond their boundaries created much conflict between the two halves (for example, which end is in charge of doing what), which placed themselves and their passengers in great danger whilst running an important errand. But, with advice from Thomas in mind, they were able to complete their task and realise the value of working as one.
Mighty Mac is painted royal blue with gold and red lining.
Mighty Mac is based on a Double Fairlie locomotive of the Ffestiniog Railway with added bufferbeams.
Appearances
Edit
Voice Actors
Edit
Mac:
Merchandise
Edit
Merchandise Gallery
Edit
Ad blocker interference detected!
Wikia is a free-to-use site that makes money from advertising. We have a modified experience for viewers using ad blockers

Wikia is not accessible if you've made further modifications. Remove the custom ad blocker rule(s) and the page will load as expected.